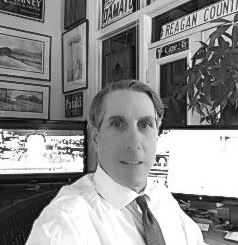 Gordon H. Hensley has twenty-five years of senior level government, private sector and national campaign communications experience in Washington, D.C. and on the ground in over a dozen states. A former communications director for the National Republican Senatorial Committee (NRSC), a Governor, three Capitol Hill lawmakers and a variety of competitive U.S. Senate, gubernatorial and presidential campaigns, Hensley has also served as senior speechwriter and primary on-camera, on the record spokesperson in many of these engagements.
Consequently, clients and consulting teams working with him significantly benefit from his unusually diverse senior level public affairs background, grasp of policy, and hands-on understanding of media, polling, research and digital advocacy.
Policy Background
For the past fifteen years, Hensley has gained extensive experience with health policy issues related to the U.S. post-acute care sector, the Affordable Care Act (ACA), Medicare and state Medicaid financing, Medicaid managed care, value-based purchasing, bundled payment reform, CMS regulatory oversight of SNFs, IRFs and LTACs, federal health quality metrics, and the business economics related to increased hospital and SNF care integration. Hensley has worked for health care clients in Washington, D.C. and across the U.S. including Texas, California, Pennsylvania, Louisiana and New Jersey.
For the past three years Hensley has also focused with colleagues on helping build a successful Washington-based coalition start-up advocating for Long Term Care (LTC) pharmacies and their patients. Pharma issues related to MAC pricing, federal and state PBM regulation, FDA drug repackaging, opioid abuse, and sweeping "21st Century Cures" legislation now pending are predominant policy matters.
Beyond the broad realm of health policy, Hensley is also involved in a variety of content projects related to federal and state budget policy, federal tax reform, federal labor policy and campaign finance reform.
sm/c/p clients have included the American Health Care Association (AHCA), the City of New York, Texas Health Care Association (THCA), Edelman, Alliance for Quality Nursing Home Care, Ketchum, Pennsylvania Health Care Association (PHCA), Louisiana Nursing Home Association (LNHA), Ruder-Finn, Schmidt Public Affairs, Senior Care Pharmacy Coalition (SCPC), American Forest and Paper Association (AFPA), former Cabinet-level officials, various corporate writers' groups, independent expenditure efforts and industry coalitions, among others.
Crises have included corporate malfeasance allegations, federal and state investigations, federal regulatory disputes, reputation management issues, and managing the media aftermath of ill-considered public comments.
Political Background
Hensley has an extensive, well-traveled background in the most competitive national and state campaign environments, and has served as communications director, press secretary, speechwriter, consultant or staffer for President George H.W. Bush, Governor George Pataki (R-NY), Governor Buddy Roemer (R-LA), Sen. Bob Corker (R-TN), Sen. Al D'Amato (R-NY), Sen. Bob Dole (R-KS), Sen. Paul Coverdell (R-GA), Sen. Gordon Smith (R-OR), Sen. Strom Thurmond (R-SC), Rep. David Dreier (R-CA), Rep. Vito Fossella (R-NY), Rep. Sam Johnson (R-TX), Rep. Helen Bentley (R-MD), Rep. Jim Courter (R-NJ), Rep. Joe DioGuardi (R-NY), the New York State GOP, California GOP, National Republican Congressional Committee (NRCC) and U.S. Senate Republican Conference.
His political work over the past decade includes collaborating on WI Governor Scott Walker's 2016 presidential announcement speech and policy media rollouts, serving in Nashville TN as senior communications adviser and writer for Sen. Bob Corker's come from behind 2006 Senate contest against Harold Ford Jr., and working in St. Paul, MN for GOP Senator Norm Coleman's 2008 recount against Sen. Al Franken.
Hensley has appeared at the Harvard JFK School as a guest lecturer, and as a speaker or panelist at National Press Club, LSU, UT-Austin, Rutgers University/Eagleton Institute and National Journal/Hotline campaign forums. He was previously named one of the top 50 most influential DC-based campaign operatives by Roll Call, and taught U.S. campaign techniques in Russia during the early post-Cold War Yeltsin era on behalf of the International Republican Institute (IRI).
From Brooklyn NY, Hensley grew up in Chappaqua NY and attended Milton Academy, near Boston MA. He studied international economics at Franklin College in Lugano, Switzerland intending to transfer to Georgetown's School of Foreign Service and ultimately a diplomatic career. Instead, he got a $40 per week job on Ronald Reagan's 1980 New Hampshire campaign, got hooked on politics, and enrolled at George Washington Univ. to study American Literature and Government while simultaneously pursuing campaign work.
A devoted 40 miles per week runner and live music fan, Hensley serves on the Board of Headcount.org — a non-partisan voter registration group based in NYC.